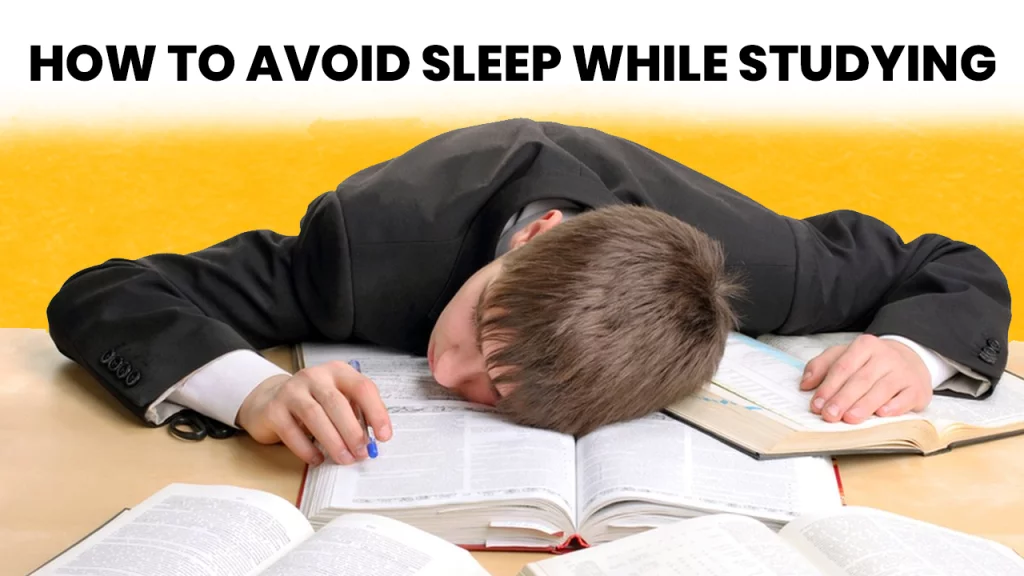 All Students desire to perform to the highest level possible and achieve their best. However, the majority of them get trapped in sleep while studying.
One gets fatigued and exhausted while studying frequently, especially at night. But fear not—there are techniques you may use to sharpen your focus while studying. Making minor adjustments to your daily routine can enable you to fight fatigue and concentrate for extended periods of time. Let's look at solutions to the problem of keeping awake while learning.
Find techniques to manage time and focus while studying to achieve high exam grades. Here are 9 strategies for staying awake and how to avoid sleep while studying.
Make a Schedule
Giving your brain the directions to act upon is the first thing to initiate. Having a schedule to follow acts as a stimulus to the mind and body to function in a specific manner. Try not to procrastinate in order to have the most efficient and productive outcomes.
A structured timetable not only gives a direction to your actions in a day but also escapes you from the thoughts of not doing enough. It helps you to have a systematic clock for yourself.
Manifestation
Practice manifestation on a daily basis to stay positive and enthusiastic towards your actions. A habit of practicing positive affirmations and manifesting your to-dos not only acts as a tonic of energy and motivation to your brain but also helps you feel calm and composed.
These practices make you feel positive and confident with strong willpower to stay dedicated and help you streamline your actions productively.
Eating habits
Our physical, mental, and even emotional health are all influenced by the food we consume. Having healthy eating habits is a must to have a proper metabolism to feel light and full of energy and thus raise your productivity for the whole day.
Therefore it is said to study in the morning hours because one feels highly productive in the early hours of the day. The main reason behind the same is that we do not stuff ourselves with heavy-feeling food in the morning.
Heavy foods affect your metabolism and food breakdown activities and utilize the energy produced which makes you feel lethargic and sleepy while your work.
Read Aloud, Write if Possible
Make it a habit of reading aloud while studying instead of reading at the back of your mind as doing so takes very less time to get distracted and go into another zone of thoughts altogether.
The practice of reading and writing while studying puts all your senses into action and thus helps you study with more concentration and focus without getting distracted and feeling sleepy.
Take a Walk
Whenever you feel sleepy or exhausted in between your tasks and studies try to get up and take a small walk, a little exercise, or any other activity which again makes you feel energetic and fresh.
These small activities help in bringing your mind and body into action making you feel composed and bringing back your focus and attention.
Drink Water
Always keep water bottles at your side whenever you sit to work. Whenever you feel drowsy make it a habit of sipping in the fluids as it helps to energize the body bringing your attention back.
Drinking water keeps your hydrated and prevent feeling tired and exhausted. It also helps to reduce food cravings in between keeping you feeling light and fresh.
Do not Study on the Bed or with a Blanket
Setting up the right environment is the prerequisite as it plays a vital role to set you up ahead. Having a separate ambiance with the right aesthetics helps you to keep yourself focused on your tasks.
Always have a clean and separate space with the necessary things like your books, notes, laptop, water bottle, and anything that will need before you sit to start your work so that you do not get distracted midway.
A right setup gives you the energy that you require to stay focused. The bed has a vibe of comfort and coziness that will eventually make you feel sleepy in some time and hence impact your productivity.
Set a Deadline
Study with small deadlines to achieve the best concentration and focus. Set deadlines of a few hours or a day to complete a specific task. This practice helps to bring in the best concentration and escapes you from procrastinating.
Small deadlines also help you to be efficient and complete more topics and concepts in an in-depth manner.
Study in Slots
Sitting for long hours without productive results is of no worth. Sectioning what you need to study in slots of say 23-30 mins followed by a break of some time will help you yield effective results. Studying in slots is a highly efficient practice to get the most out of your efforts.
Firstly it gives you a time alignment to follow that makes you more focused and attentive and secondly, the break refreshes you to get back the focus needed for the next round of sitting.
Practicing these 9 tips for staying awake and how to avoid sleep while studying will definitely lead you a long way to optimize your studies to the highest standards and utilize the time in the best possible ways.
Find the points and practices that best suit you and make them a part of your daily routine to perform to the best of your capabilities and yield fruitful results to your efforts.
"Everything we do is practice for something greater than where we currently are. Practice only makes for improvement". – Les Brown.
Watch out the video on how to avoid sleep while studying.
Visit us at– https://www.magnetbrains.com/
Our YouTube Channel– https://www.youtube.com/c/MagnetBrainsEducation
Follow us on
Instagram
Facebook
Twitter
Telegram
Feel free to reach out in case of any feedbacks and queries.
Happy to help!