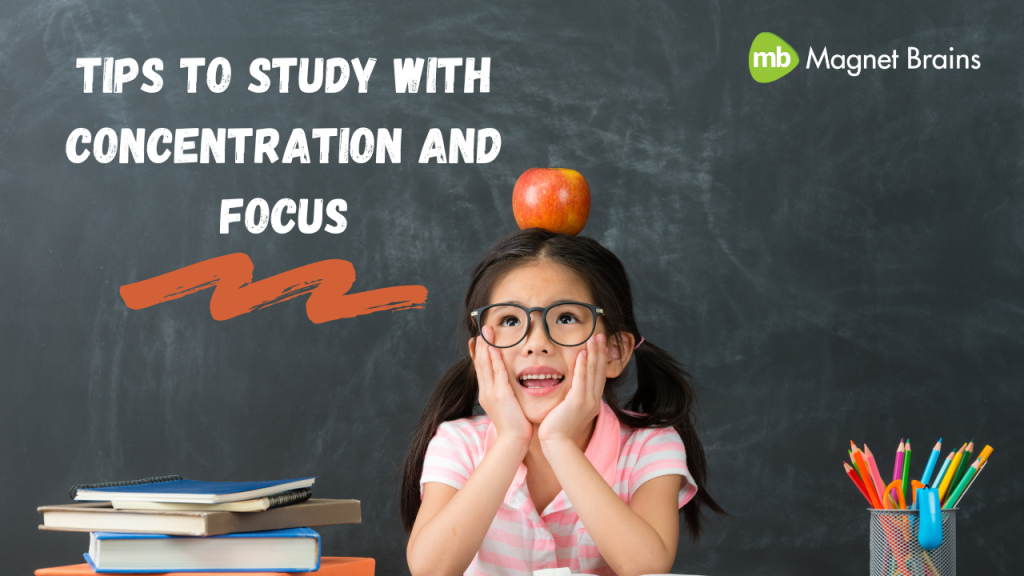 Do you often find yourself stuck while memorizing all that you have studied for your exams?
Exams times come along with a lot of pressure to complete the vast syllabus and the stress to perform well. Long study routines get you to a point where you find it difficult to memorize all that you have studied and develop a fear of forgetting answers in the exams.
It becomes a process where you keep on studying chapters ahead while you tend to forget what you studied back. All of this intensifies your stress and eventually affects your concentration and memory.
The right balance of your mental and physical health is the key to improving your memory and concentration so that you can make the most out of your learning. Here are a few of the tips to bring in the right balance to help you study with concentration and focus-
Balanced Sleep Routine
Sleep becomes the most neglected aspect when you have something important to do and that's where you make the biggest blunder. Sleep acts as the best medicine for your body and mind to restore themselves to the best capacity.
A sleep routine of a minimum of 8 hours is a must to keep yourself refreshed and mindful to grasp all that you study because if you keep on trying to study with an exhausted mind you would not be able to grasp anything that you try to put into your brain.
Your sleeping routine should have the perfect balance to improve your focus and memorizing capabilities. It is very important to shed the stress that your body holds from the intensive study routine.
Exercising Routine
Physical activity plays a vital role to keep your concentration on point. It helps to boost hormones like dopamine, serotonin, oxytocin and various others that help to make you feel energized and motivated. It acts as a tonic to keep yourself in the best of health and spirits.
Even a small amount of mental and physical exercise plays a very important role to bring the boost that your study sessions need. Regular exercise helps in improving your memory and concentration and also fends off all the stress.
It makes you feel good about yourself and be more creative in bringing solutions to problems. Find a form of exercise that you enjoy and make it a part of your study routine.
Avoid Late Night Study
As it is said, "Early to bed and early to rise makes a man healthy, wealthy and wise". But all this takes a back seat when it comes to execution and all the habits which actually minimize your efficiency take a front seat.
Late-night studies affect your efficiency to a great extent even though it seems convenient to you. Nature has set a particular pattern in which our mind and body are set to behave and disturbing the balance leads to inefficient results.
Similarly, it is of utmost importance to give rest and relaxation to your mind and body at night to help function to the best of your capabilities. Nights are made to sleep and relax so avoiding late-night studies and waking up early helps you to be most efficient as your brain is set to function the best in the mornings.
Balanced Eating habits
Good mental and physical exercise should be supported by a healthy balanced diet to bring out the most of your efforts. A balanced diet is of utmost importance to keep your health on the best track. Practice having a diet supplementing you with all the vital vitamins and minerals to make you feel energised.
Avoiding all sorts of junk will help you keep yourself healthy and full of energy to bring in the best focus you need in your study routine. Eating homemade food is the best source to keep you in the best of your health and avoid any sort of viral infections which could otherwise affect your mental and physical health and eventually disturb your focus and routine.
Practising these tips will help you study with utmost concentration and focus during your exam preparations and will also help you keep yourself in the best of your health.
Having a good routine in your daily life plays a very important role to excel in each and every aspect you find yourself in as everything at the end of the day depends upon good mental and physical health.
Stay Consistent- "Success is the sum of small efforts, repeated day in and day out."
We wish you all the best for your examinations and be with you at every step of your preparations.
Watch out for the video on tips to improve concentration
Visit us at – https://www.magnetbrains.com/
Our YouTube Channel– https://www.youtube.com/c/MagnetBrainsEducation
Follow us on
Instagram
Facebook
Twitter
Telegram
Feel free to reach out in case of any feedback or queries.
Happy to help!