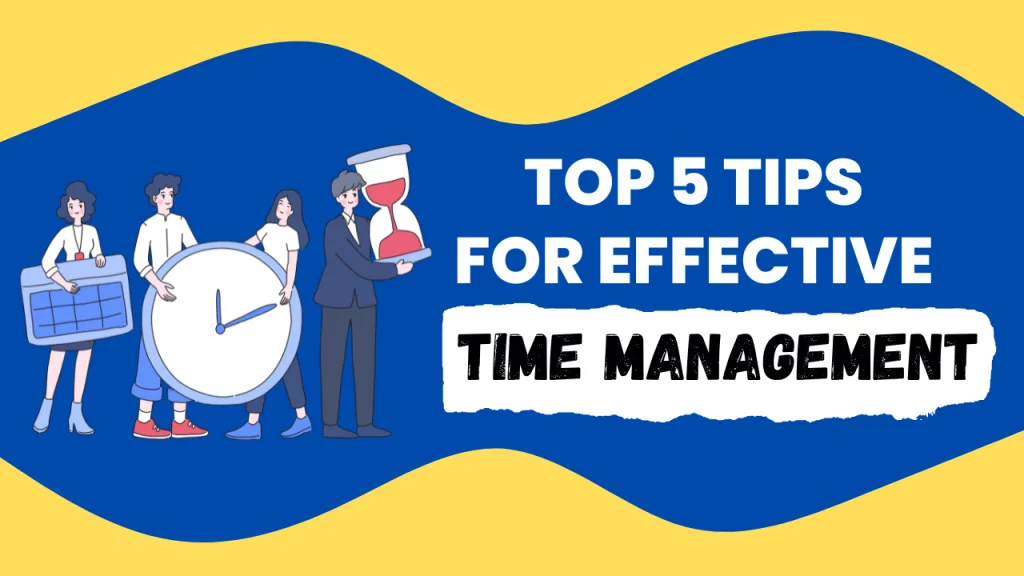 Optimizing your routine with the perfect balance of the most priceless thing i.e. TIME is of utmost importance.
As learners, it is of utmost importance to understand the value of time to bring maximum productivity, concentration and balance to your daily routine to make the best out of your efforts. Procrastination will be of no help if you want to achieve your goals as decided. Just wondering how some manage to strike off end number of tasks in a day while you are struggling to tick off only a few in the same given time is where you need to intervene to adopt some effective time management techniques to reap its benefits and be most productive in the process of achieving your goals.
With some practical advice, we've got your back as you try to make the most of each day. With the help of these top 5 tips for effective time management, you may manage your time effectively for optimum productivity, concentration, and—most importantly—daytime balance.
Have a Routine
Setting the right tone for the day is the most essential requisite to reinforce the productivity needed to boost your routine. Set up a strict waking routine followed by meditation and exercises which will create a direct impact on optimising your productivity and mindfulness for the rest of the day.
Have a set of mindful practices which suits you and helps you to kickstart your days energetically and be most productive in every single area you work upon. Having the right start is the key to having the most fruitful end to the day.
Maintain a Daily Task List
If you make it a practice to maintain a to-do task list very first thing in the morning, this habit of yours will help you reap the most fruitful benefits. This not only helps you set your tasks on a priority basis but also makes you feel motivated when you strike off the tasks from the list as you go on finishing them during the day.
This habit helps you to set the tasks that you would be able to achieve with the available resources in the given time i.e. you can set achievable tasks for yourself and focus on consistent progress on a daily basis. This is the best practice to keep a track of your performance and progress and thus helps you stay motivated
Complete One Task at a Time
Multitasking is of no worth if you need to be most efficient in getting your work done as moving between different tasks takes a toll on your brain functioning and eventually makes you less efficient. So the feeling of getting more tasks done has no point of efficiency.
Therefore it is better to section your tasks and complete one task at a time to bring in new perspectives and a feeling of accomplishment.
Set Reminders
Setting reminders for your tasks will not only help you keep track of your performance but also help you to be on your toes. It will help you be aware of the number of tasks you perform in a day and how efficient and productive you have been doing them.
This will not only help you keep a track of the time a particular task is taking on your part and how much effort you need to put in to make them more effective. This practice will help you become more facile and methodical in your approach and practice.
Avoid Distractions
Staying away from all sorts of distractions is the key to avoiding burning out, and staying happy and motivated for the entire day. Try to maintain distance from your social media accounts and all sorts of means which would otherwise distract you from a dedicated routine. It also decreases your efficiency to be on point with your tasks.
Even the breaks you set in for yourself in between should be free from screens. It should be utilized for some mindful activities like a small walk, listening to some good music, having a coffee or a little exercise to escape from burnout and make you feel relaxed and energized when you are knee-deep in preparations.
Honing these top 5 tips for effective time management is of true importance to achieve a sense of accomplishment and work smarter than harder. If you are able to value the importance of TIME and manage it efficiently to the best of your capabilities you will surely manage to nail everything you put your shoes into.
You can only manage time if you track it right.
"The bad news is time flies. The good news is you're the pilot"_ Michael Altshuler
Visit us at– https://www.magnetbrains.com/
Our YouTube Channel– https://www.youtube.com/c/MagnetBrainsEducation
Follow us on
Instagram
Facebook
Twitter
Telegram
Feel free to reach out in case of any feedbacks and queries.
Happy to help!