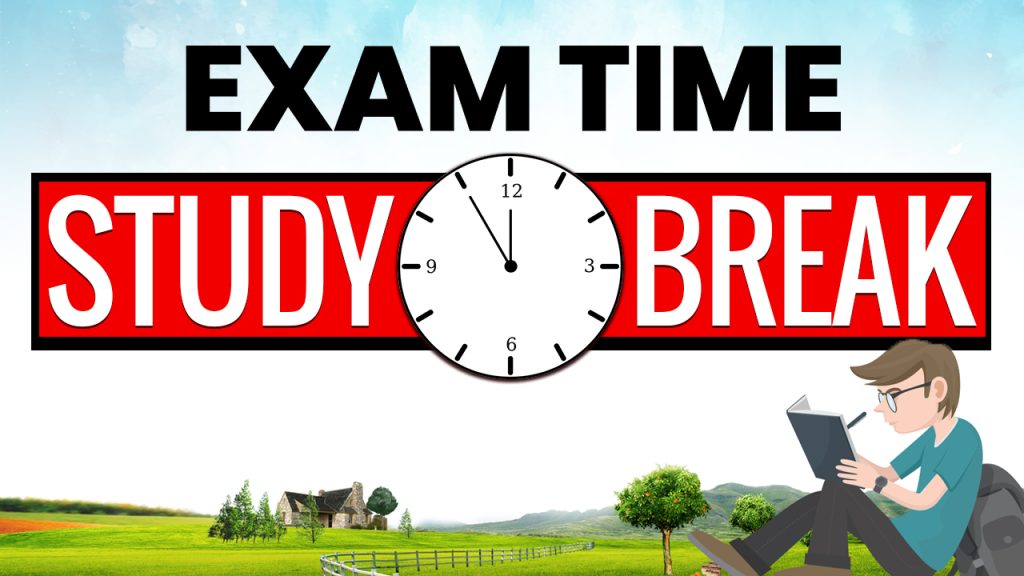 Taking breaks is equally crucial as managing your time during exams. It acts as a stimulus to boost your concentration and focus.
Exam Time comes with a lot of stress and panic to be on point with your preparations. The constant efforts to be most productive and focused sometimes get you into a situation of frustration. Here is where a short break in between plays a vital role as a stress buster to boost your overall productivity.
A break of 10-20 minutes between your studies can be of great help in multiple ways. Let's learn how to take effective exam time study breaks to boost productivity and focus to perform to the best of your capabilities.
The Significance of Study Breaks
Taking breaks between study sessions can benefit your mind in a variety of ways.
Stress Reliever
Studying for extended periods of time can leave you feeling overwhelmed and dissatisfied. A study break refreshes your brain and relieves tension. It helps to shed the stress that your mind and body hold from the intensive study routine.
Structured Studies
Study breaks provide you ample time to arrange the concepts you've learnt. This reduces subject-related uncertainty and aids in improved comprehension. It helps you to organize the topics and the time you need to allot to prepare those effectively.
Memory Enhancer
Taking a break from studying refreshes your brain cells. This aids in strengthening your memory and relating new information to previously learned material.The breaks in between help you to stay motivated and energized and stimulate better concentration
Boosts Productivity
Enhance your productivity by taking a break during your study sessions. This will make you more focused and enable you to learn more in less time. It supports the development of sound decision-making techniques and helps you better manage the timely completion of all of your tasks.
Studying with breaks makes you efficient and lets you complete more topics in an in-depth manner. You can regain your focus for the following round of sitting after taking a break to recharge.
To ensure that the breaks you take come to aid in the learning process we have a list of study break tips and ideas to follow religiously and yield the most fruitful results out of your breaks.
Tips for Effective Study Breaks
Restful Slumber
The benefits of a good slumber include the regeneration of brain cells. This aids in information gathering, processing, and archiving. When you have something important to do, sleep becomes the area that is mostly disregarded, and that is where you make the biggest mistake. The most effective treatment for restoring your body and mind to full functionality is sleep.
To be alert and focused while studying, you must get at least 8 hours of sleep every night. If you try to study while mentally weary, you will be unable to retain anything you try to instil in your brain.
Exercise and meditation
Convenient and traditional physical activities like running, jumping jacks, and walking release neurons that can reduce the tension already present in your brain. Additionally, meditation can improve your general physical and mental health and lessen exam anxiety.
Being physically active is essential for maintaining focus. Dopamine, serotonin, oxytocin, and other hormones that help you feel invigorated and motivated are helped to increase by it. It functions as a tonic to maintain you in top physical and mental condition.
Take a Stroll
Sitting still and studying for long periods of time can be exhausting. When this happens, go for a walk. Step outside and take a deep breath. You can learn much more effectively and restore your focus.
Try to get up whenever you feel drowsy or worn out in between your studies and engage in a short stroll to restore your sense of vitality and freshness.
Relax through Hobbies
Long periods of intense work can wear you out. Spend some time engaging in creative pursuits like colouring, drawing, a fast dance-off, or any brief DIY project to prevent this. These little intervals offer a beneficial diversion, reduce stress, and aid in maintaining focus.
These little tasks assist in getting your mind and body moving, helping you to feel calm and regaining your focus and attention.
Now that you are aware of the importance of exam time study breaks to boost productivity and focus, utilize these suggestions and let us know in the comments how they helped you prepare for your exams.
Happy Learning😇
"Sometimes when we take a break, we may find that solutions then present themselves."_ Catherine Pulsifer
Read more articles on effective study tips.
Top Study Tips for Effective Learning and Motivation
Tips on How to Study with Concentration and Focus
Visit us at – https://www.magnetbrains.com/
Our YouTube Channel– https://www.youtube.com/c/MagnetBrainsEducation
Follow us on
Instagram
Facebook
Twitter
Telegram
Feel free to reach out in case of any feedback or queries.
Happy to help!