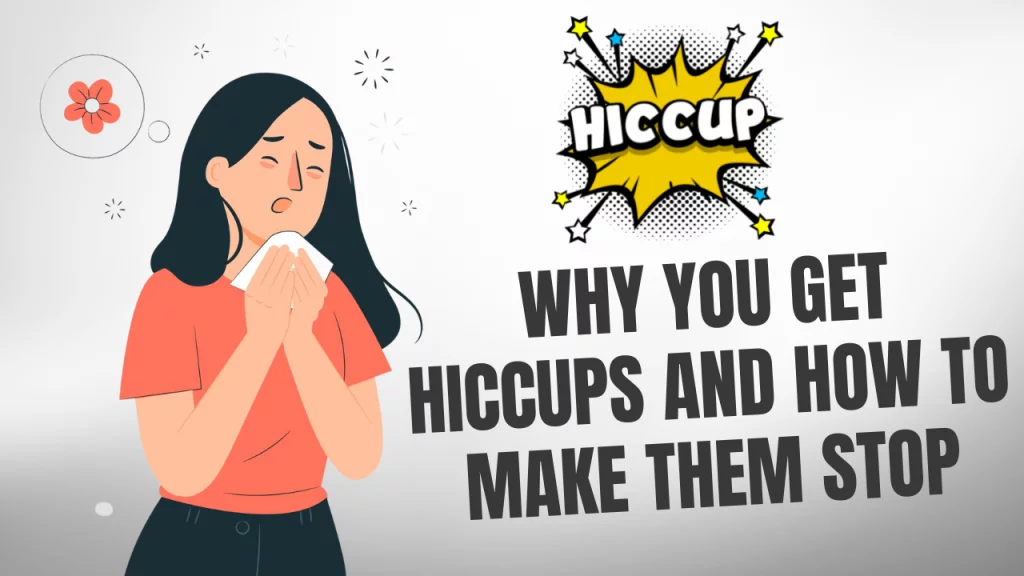 The diaphragm's involuntary contraction results in hiccups. We've all experienced them, but do you really understand where they originate?
The muscle tissue just below your lungs, the diaphragm, contracts repeatedly and uncontrollably during hiccups. They are the odd tiny noises that can suddenly erupt from your mouth. Hiccups cannot be anticipated.
The majority of hiccup episodes begin and terminate quickly and without apparent cause. Typically, episodes are only a few minutes long.
Hiccup quick facts
Typically, your stomach, oesophagus, or nerve are responsible for causing hiccups.
Alcohol and dry foods can both trigger hiccups in various ways.
Within 48 hours, hiccups typically stop on their own.
If your hiccups last longer than 48 hours, see a doctor to have your symptoms examined.
Hiccups: Why you get Hiccups and How to make them Stop
What are Hiccups?
However, hiccups begin considerably lower in the body, in the diaphragm, a muscle that resembles a dome and is located between your lungs and stomach. Normally, the diaphragm contracts when you breathe in to allow air to enter your lungs, and it relaxes when you breathe out to allow air to return to your lungs and exit through your nose and mouth.
Your diaphragm, however, can spasm if something irritates it, causing you to suddenly inhale air into your throat and then into your voice box. Your vocal cords quickly close, as a result, producing the distinctive "hic!" sound.
Why do you get Hiccups?
There are numerous causes of hiccups, some of which are physical and others emotional. This is due to the fact that the nerve that connects the brain to the diaphragm is where the true irritation occurs. Typical causes include:
Overeating or eating too soon
Having anxiety or excitement
Drinking too much alcohol or carbonated beverages
Stress
A sharp drop in temperature
Taking a breath while chewing gum or sucking on a candy
How to make them stop
Most glitches aren't serious or cause for concern. A protracted episode, though, can be painful and disturbing to your normal routine. There are many possibilities for hiccup treatment. A brief attack of the hiccups will typically go away on its own.
However, if hiccups persist for more than a few minutes, the discomfort could make waiting them out uncomfortable. Your doctor may try alternative medications to see if they can stop your uncomfortable hiccups if all else fails and they last for a few days or longer.
Some Home Remedies
You can try the following possible home remedies for hiccups, though not all of them have been shown to work:
Inhale via a paper bag.
Eat a spoonful of sugar crystals.
Take a deep breath.
Take a sip of some cold water.
Hold your tongue out.
Try to deliberately gulp.
Keep your knees close to your chest in this posture.
Calm down and take slow, even breaths.
To conclude, there are many different potential causes of hiccups, and there are also many different potential therapies.
Hiccups can be uncomfortable and annoying, but they usually aren't a cause for concern. In some instances, though, if they're recurring or persistent, a medical diagnosis may be necessary for an underlying condition.
Read more relevant articles.
What is Deja Vu- Meaning and Why it happens
Why do we Yawn- Ways to Stop Yawning
Follow us on
Instagram
Facebook
Twitter
Telegram
Feel free to reach out in case of any feedback or queries.
Happy to help!