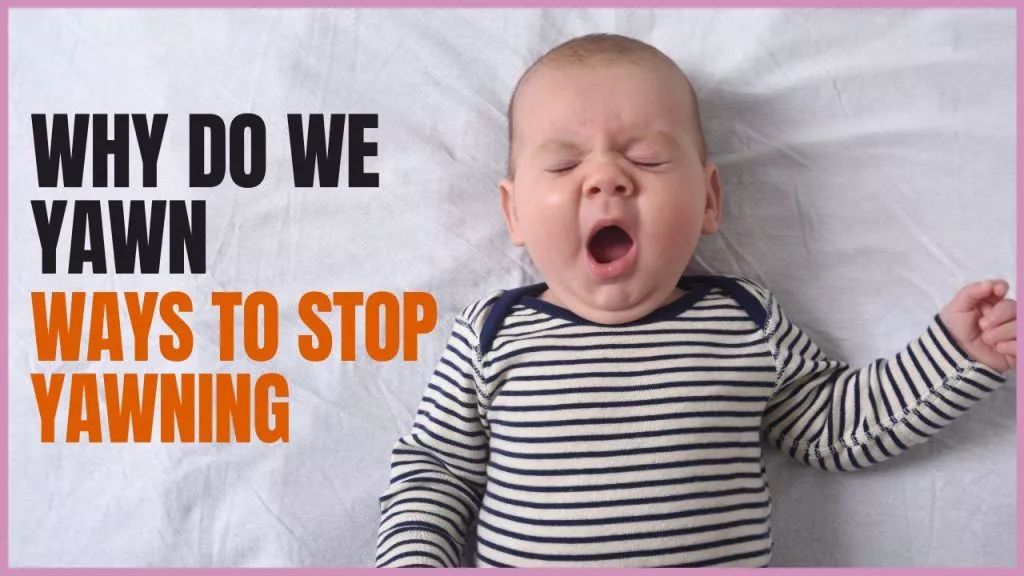 Why do we Yawn- Ways to Stop Yawning. Yawning is a typical physical response to exhaustion or stress.
The process of yawning is the same for everyone and requires no thought or activity. Yawning is typically regarded as an indication of fatigue because it frequently occurs before or after sleep. Additionally, those who are engaged in monotonous or dull activities tend to yawn frequently.
Yawning has a social component as well. The contagiousness of a yawn has been thoroughly reported but is still not fully understood.
What is Yawning?
Yawning is characterised by an uncontrollable broad opening of the mouth and the widest possible expansion of the jaw, as well as a long, deep, inhale through the mouth and nose, followed by a gradual expiration, all of which are connected with a sense of comfort. The yawn lasts for five seconds on average. In humans, yawning is typically accompanied by limb stretching as well.
It is also contagious because yawning can be induced by hearing, reading, seeing, or even thinking about yawning. The argument about yawning's utility is still raging, and modern science is still seeking a comprehensive explanation of the mechanisms and goals that it serves.
Why do we Yawn- Ways to Stop Yawning
Some quick facts about yawning
Here are some important ideas regarding yawning.
Yawns are typically a sign of exhaustion or a lack of stimulation.
Even while still inside the womb, babies can yawn.
As a part of the human body's natural empathic reaction, yawning is contagious.
Yawning is a social cue used to express boredom.
Causes of Yawning
You don't have to think about your body yawning because it does it naturally and often without your conscious awareness. Studies on the reasons for yawing, however, have revealed a number of elements. There isn't a clear-cut explanation for yawning yet.
A Change of State
If you're on a plane or driving at different altitudes, you can be yawning on purpose or as a result of a reflex from your body. By doing this, your body balances the pressure inside your ear.
Sleep Disorders
Fatigue or exhaustion, which are extremely common, is a big factor in why we yawn. People who have problems getting adequate sleep may yawn more frequently than usual.
A Respiratory Function
Breathing may play a role in yawning. When the blood needs more oxygen, yawning may be more common. A yawn creates a large breath intake and a rapid heartbeat, which potentially may indicate that more oxygen is being pumped through the body. Therefore, a yawn might just be intended to help the blood become more oxygenated and rid of pollutants.
To reduce brain heat
A yawn may help the brain stay cool. The stretch of the jaw that results from yawning increases blood flow to the face and neck. It also generates a quick heartbeat, a deep breath, and an increase in blood and spinal fluid circulation. This entire procedure might be intended to help a brain that has overheated cool down.
Anxiety
Anxiety frequently results in yawning. It has an effect on the heart, respiratory system, and energy levels. These may cause tension, yawning, and shortness of breath. If someone is anxious a lot, they might yawn more often than other people.
Heart Issues
Uncertain nerves from the heart and stomach to the bottom of the brain are linked to excessive yawning. Shortness of breath and nausea are two more heart-related symptoms that cause chest pain. These are all associated with yawning-related causes.
Ways to Stop Yawning
There are several methods to follow to prevent awkward situations if you're wondering how to quit yawning too much. How to stop excessive yawning depends on what's causing it.
Making certain lifestyle changes may help if you're in good health but still yawn regularly. In order to do this, you must regularly exercise, manage your stress levels, and, of course, keep a regular sleep pattern that allows you to receive eight hours of sleep each night.
Additional Techniques to Stop Yawning
Bringing the Temperature Down
By bringing your body temperature down, you will undoubtedly experience less of a need to yawn and breathe in brisk air. Therefore, be sure to lower the heat or open a window.
Drinking a cold beverage
Yawning could be a sign of fatigue brought on by dehydration. Consuming anything cold will also aid to lower body temperature.
Deep Breathing
Even though it might seem obvious, instead of opening your lips when you yawn, think about breathing in via your nose.
In conclusion, yawning has always been connected to sluggishness and boredom. This long-held belief, however, is about to be disproved by the findings of several recent studies, which suggest that yawning may be a mechanism our bodies use to achieve deeper objectives.
Watch out for the video 'Why do we yawn- Ways to Stop Yawning'.
Read more articles on effective study tips.
Motivational Thoughts for Students from Greatest Scientists
The Feynman Technique- The Best Way to Learn Anything
Follow us on
Instagram
Facebook
Twitter
Telegram
Feel free to reach out in case of any feedback or queries.
Happy to help!