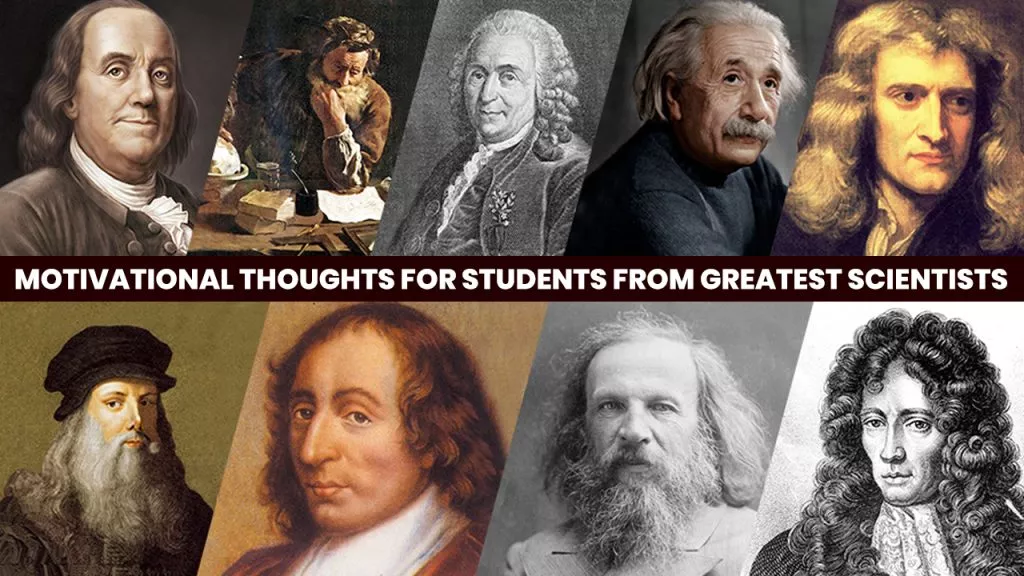 Take a step towards your goals with some unique life lessons from the greatest scientists of all time.
Scientists are a unique group of individuals who are innovative and are constantly curious and motivated to discover the truth. The greatest scientists in history have left us with motivational thoughts about their discoveries, philosophies, and perceptions of the world. They are the great minds of their times who not only had a solid background in science but also had a wonderful grasp of life's fundamental truths.
Their thoughts are potent enough to change your view on life. They constantly provide sources of inspiration, motivation, and encouragement. The best thing about these success quotes is that they are all timeless and have a lot of relevance to contemporary life.
Motivational Thoughts We Should Learn From
Here is a collection of motivational thoughts for students from the greatest scientists about life and motivation that you will find both real and enticing to learn something new in the realm of life.
Everything is Theoretically Impossible Until It's Done – Robert A. Heinlein
When an idea is not worked on, it will always remain just that: an idea. Considering the above quote, it not only relates to the scientific realms but is equally relatable and imparts a fuller sense of meaning in real life. Great ideas always remain in the box until it is practically done and brought into the frame to achieve a feeling of accomplishment.
Our Virtues and Our Failures are Inseparable, Life Force and Matter. When They Separate, Man is no More. – Nicola Tesla
A step ahead is always important irrespective of the results. This is one of the best motivational quotes describing the importance of failures in achieving success. Falling and getting back stronger makes more sense than not trying at all.
Risk-taking teaches you that success and failure have equal importance and that there will be times when you succeed and others when you fail. Failure is a part of the process to pick yourself back stronger and harder.
If You Want to Have Good Ideas, You Must Have Many Ideas. – Linus Pauling
All great things are the fruits of multiple ideas. It is only in the process of curating something remarkable you come up with that one idea that stands out. In order to have an original concept, you must have several before coming up with the one that makes a difference.
Every person has originality because we are all unique from one another.
The Good Thing About Science is that It's True Whether or Not You Believe in it. – Neil deGrasse Tyson.
Neil deGrasse Tyson, a well-known astrophysicist, made a wise observation in this context. He explains that science is factual and that whether or not one believes it to be true is irrelevant. This is one of the great scientists' quotes that explains how science actually explains natural events and is not made up.
Above All, Don't Fear Difficult Moments. The Best Comes From Them. – Rita Levi Montalcini
She is a renowned neurologist and a Nobel laureate who talked about how adversity brings out the best in people. She held the opinion that going through difficult times helps you grow and gets you ready for new challenges.
Difficult paths always lead to beautiful destinations. It helps to bring out the best in yourself as you learn to mould yourself through all ups and downs coming out with fruitful solutions.
What You Learn From a Life in Science is The Vastness of Our Ignorance – David Eagleman
It explains how it is impossible to study everything and know everything. People frequently act as though they are infallible while making grave errors in judgement. You should accept this global truth and be willing to learn more.
If you know you are on the right track, if you have this inner knowledge, then nobody can turn you off… no matter what they say. – Barbara McClintock
A wonderful reminder to constantly follow our curiosity and believe our gut feelings. Nobody can turn you off if you have this inside conviction that you are on the correct path, regardless of what others may say.
Your conviction will always lead you to your goals if you dedicatedly work towards them no matter what comes your way.
Science knows no country, because knowledge belongs to humanity, and is the torch which illuminates the world. – Louis Pasteur
Knowledge belongs to humanity and is the light that illuminates the entire globe, and science knows no borders. Knowledge is universal and has a profound implication which knows no boundaries in terms of its diversification.
The important thing is to never stop questioning [or learning]. – Albert Einstein
It is the one we should keep in mind when we feel afraid to ask that pressing question. No matter how far along our career paths we are, we are all still learning. The wonder of science is just that.
We cannot solve problems with the same thinking we used to create them. – Albert Einstein
This is one of the most influential quotes which reminds us of the importance of thinking outside of the box. We cannot approach issues in the same way we approached their creation. It is of utmost importance to think out of the box if you wish to come out with the most incredible solutions.
Life Lessons From Motivational Thoughts
All of these motivational thoughts for students from the greatest scientists are grounded in personal experience. Their well-known thoughts represent their realisations. These quotes give us confidence in our endeavours. They advise us to rely on and take lessons from the results. Such quotations serve as a great source of motivation for us during trying times.
Read more articles on effective study tips.
How to Study for Exams with the Pomodoro Technique
Exam Time Study Breaks to Boost Productivity and Focus

Visit us at – https://www.magnetbrains.com/
Our YouTube Channel– https://www.youtube.com/c/MagnetBrainsEducation
Follow us on
Instagram
Facebook
Twitter
Telegram
Feel free to reach out in case of any feedback or queries.
Happy to help!