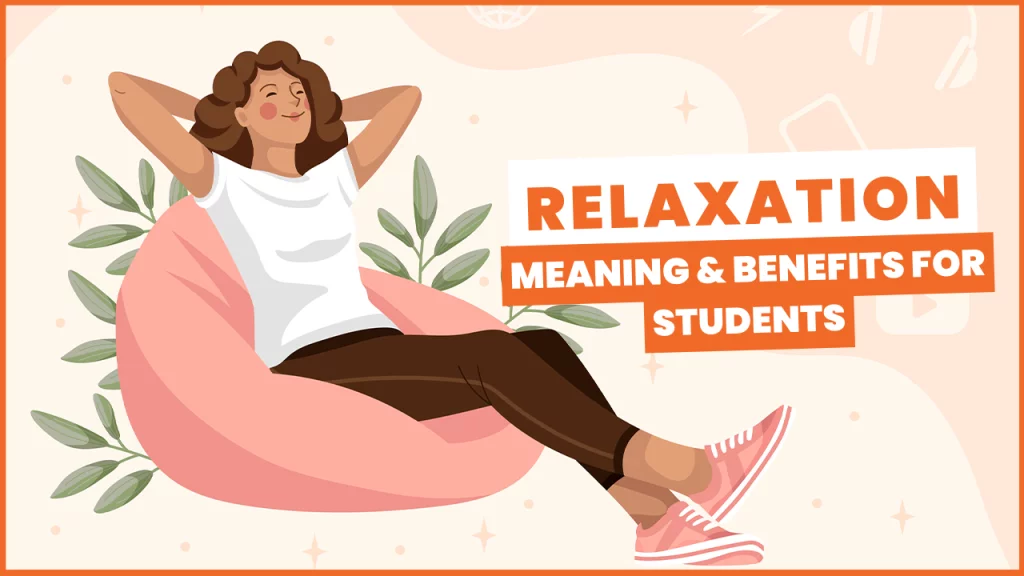 Continuous study sessions will eventually limit your ability to acquire new things and follow instructions cognitively.
The stress of finishing the syllabus on time while also attending class, tutoring sessions, finishing their assignments, and fulfilling other obligations is felt by students. Their physical and emotional health suffers as a result of this monotonous and hard schedule.
Students, therefore, require more downtime than ever to get their bodies and minds ready for new challenges. Growth on the physical and mental levels includes relaxation.
Relaxation: Meaning and Benefits for Students
Meaning of Relaxation
Continuously studying and covering several topics at once can be highly stressful. Without a break, a student becomes less effective at learning new concepts, which has an impact on productivity.
It's crucial to take a break between routine study sessions. It maintains the highest level of happy chemicals in your brain. Your brain will regain its capacity for learning new things. Both the retention power and the registration power will increase. We refer to this as relaxing.
The technique that aids in body and mental relaxation varies from person to person, but its advantages are universal.
How to Concentrate While Calming the Mind
Avoid being overly stressed
Avoiding excessive stress is among the finest methods to unwind. You'll notice signs of stress and fatigue in your thinking.
Lay down for some time
Lean back and breathe deeply. Close your eyes and calm down your thoughts. Pay attention to how you're breathing. For a few minutes, remain in this resting position with your arms out. To give your muscles a little exercise, you may also go for a walk outside. This will be useful.
Get enough rest
Students require a good night's sleep because they have a large curriculum to study and daily goals to meet. In between longer study sessions, many students frequently take naps. This process aids in stress reduction and brain rewiring. By getting enough sleep, you can reset your brain for greater performance the following day.
Laugh More
Increasing your happiness quotient is another method for unwinding. Spend time with your family and friends. Your ability to study will improve when you are joyful. Your sense of accomplishment will proceed in the proper direction.
Benefits of Relaxation for Students
Now that you are aware of how to de-stress, let's explore the advantages of relaxing.
Your ability to deal with stress will improve. You'll discover techniques for managing stress and quickening mental recovery.
Relaxation inspires oneself. Your brain uses it as a reward system. Your mind has the ultimate ability to overcome stress when you are joyful and fulfilled.
When you are calm, your physical and mental health will greatly benefit. Your mind will remain at ease and be able to rebalance itself helping to improve your performance.
Your brain will be more open to new ideas if you increase your creativity. You'll learn to multitask and finish all of your everyday tasks without interfering with your study time.
Mindfulness Exercises
The best methods for relaxing at home are mindfulness and meditation. You can take a short vacation and visit a different location. It allows your mind to rest as it adjusts to a new environment.
In between your busy study sessions, you can attempt a number of different relaxation and stress-reduction techniques. One method to unwind is to rest.
To conclude, it is crucial to unwind when learning. Don't push yourself to learn more because doing so won't be beneficial. Learn when to take a break from your studies and relax.
Make your relaxation techniques unique and keep up your general wellness. Learn to unwind and significantly increase your level of concentration.
Read more relevant articles.
What is Deja Vu- Meaning and Why it happens
Why do we Yawn- Ways to Stop Yawning
Follow us on
Instagram
Facebook
Twitter
Telegram
Feel free to reach out in case of any feedback or queries.
Happy to help!