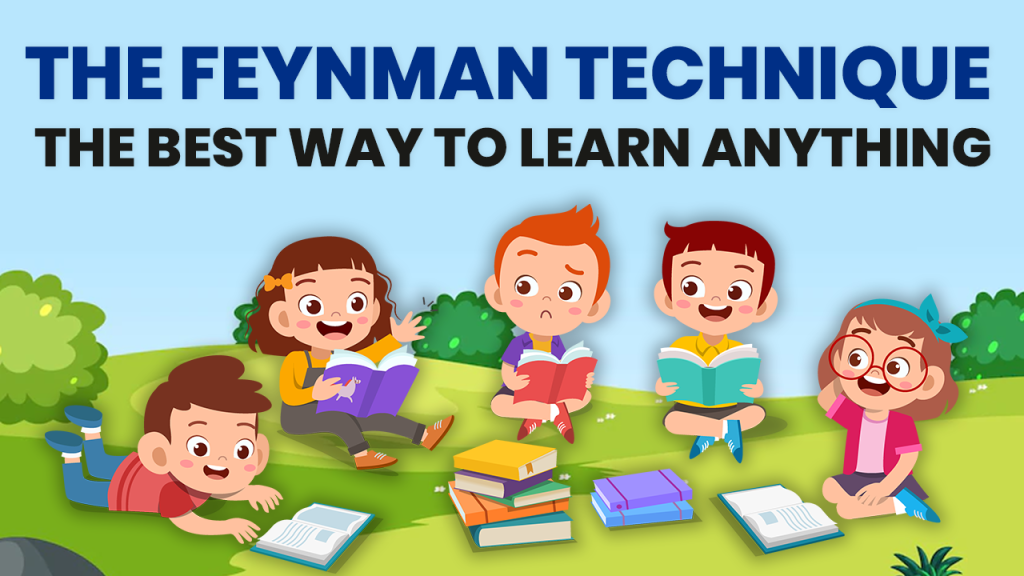 Make learning easier with the best grasp of the concepts using the Feynman Technique- the best way to learn anything.
The Feynman Technique is a very well-known learning strategy that can unleash the brain's capacity to comprehend a challenging idea and generate deep learning strategies. This methodology can be used to acquire new ideas quickly and fill in any knowledge gaps that may exist.
The method bears Richard Feynman's name, a physicist who won the Nobel Prize. He possessed a very rare talent that allowed him to communicate various, quite complex things to others in words that were easier to grasp.
This learning method is undoubtedly helpful, even if you have any ideas you wish to remember or study in a more effective and quick way. Let's learn how one might incorporate the Feynman learning method into their study schedule.
Basis of The Technique Creation
Feynman essentially recognised the significance of the distinction between learning the name of a subject and actually understanding it. One of the main reasons he was successful in developing this approach to learning is because of this. For Richard Feynman, understanding a topic or concept in depth and expanding his knowledge were more important than simply knowing its name.
The Feynman Teachnique
One of the most crucial things to remember is that you must attempt to describe a subject simply if you want to have a thorough comprehension of it. When you make an effort to describe anything simply, you will be able to tell whether you have a better grasp of the idea or not.
Using this technique, you can also identify any weaknesses or gaps in your knowledge of the subject. If you are unable to explain a particular concept or idea then the Feynman method can come to your rescue.
Richard Feynman asserts that there is a fairly straightforward method that involves following 4 steps in order to acquire any concept. Simply put, it is among the best methods and strategies for learning.
There are basically 4 steps to the Feynman technique- the best way to learn anything.
Choose your topic.
Teach it to someone.
Review your explanation.
Clarify and simplify your explanation.
This sums up the technique's main idea, which makes it a useful tool for students who are having trouble understanding certain subjects or topics.
How to Apply the Feynman Method?
Since the explanation of the concept is the key to the technique, it can be used in a variety of ways, including by explaining it to friends and family. People might not always be open to hearing what you have to say, though. So, grab a notebook and a pen as a backup plan.
The concept's name which you need to have a grasp of should be written down initially.
You must now define the topic in your own words. Act as though you are attempting to instruct someone. Make careful to explain everything simply and clearly. Try to describe with examples if necessary.
You must now go over the explanation again and look for any areas where you believe extra clarification and simplification are needed. Once done give it a thorough reading to further your understanding and better grip.
Make sure that even someone with little knowledge of the subject can understand the explanation by making use of simpler terminologies.
That concludes the Feynman notebook approach. If you follow these instructions, learning new concepts won't be difficult for you.
Is learning via the Feynman Technique better?
The Feynman learning approach is thought to be among the simplest ways to quickly and effectively acquire and grasp the concepts you find difficult to learn. If you use this approach correctly, it eliminates the need for memorising.
While memorization is essential for learning any topic, it does not guarantee that you will understand and grasp the concept in its entirety. The key to improving knowledge is to describe the subject using appropriate analogies and simpler language.
Is The Feynman Technique: The Best Way to Learn Anything
It certainly depends on your preferred method of learning. Knowing the concepts, words, and definitions by heart would be sufficient if all you wanted to do was study the surface information. The Feynman technique, though, would undoubtedly be useful if you actually want to gain a solid comprehension of the idea.
Read more articles on effective study tips.
How to Study for Exams with the Pomodoro Technique
Exam Time Study Breaks to Boost Productivity and Focus

Visit us at – https://www.magnetbrains.com/
Our YouTube Channel– https://www.youtube.com/c/MagnetBrainsEducation
Follow us on
Instagram
Facebook
Twitter
Telegram
Feel free to reach out in case of any feedback or queries.
Happy to help!