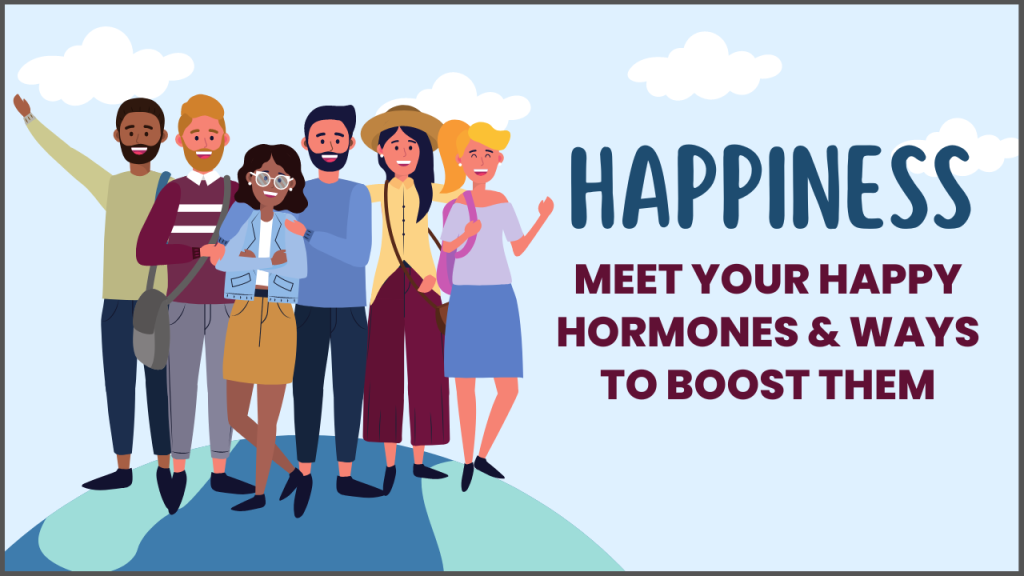 The real riches in our lives is happiness, and it is correlated with the hormones that are released when we are happy.
Nowadays, it's incredibly difficult to be happy. We need to understand the physiology of happiness in order to maintain it.
A group of hormones are directly linked to happiness. They are called the "happy hormones" and are secreted when we are content. Let's first identify the hormones.
Happiness: Meet Your Happy Hormones and Ways to Boost Them
Meaning of Hormones
Hormones are the chemical messengers that our body's various endocrine glands secrete for a specific reason to encourage a function by targeting tissue or an additional organ.
They are the regulating substances that can speed up or slow down a number of physiological processes in the body.
Happy Hormones
Chemical messengers known as happy hormones regulate a person's mood. They are typically found in nature as neurotransmitters. The following types of hormones make up this group.
Dopamine
Our brains' reward system is connected to the dopamine hormone and serves as a catalyst for us to take specific actions and fulfil our needs, wants, and goals. L-tyrosine, a non-essential amino acid, makes up its composition.
Dopamine Uses
Regulates our voluntary muscle movement.
Regulates our memory.
It starts the sleep cycle and regulates mood.
Additionally, it aids our learning.
Lack of motivation, mood changes, exhaustion, and memory loss are all associated with it. To boost dopamine secretion, consume foods that contain l-tyrosine.
Serotonin
It is a different class of neurotransmitters that are made in the intestines and brain. Additionally, it communicates with nerve cells. Both the central nervous system and blood platelets contain it.
Serotonin Uses
It improves mood.
It can control anxiety levels.
The neurotransmitter serotonin helps wounds heal.
It keeps bones healthy.
Additionally, it regulates sexual activity, mood, sleep, and other bodily functions.
We are aware of the critical role that this happy hormone plays in maintaining our daily functioning. Our bodies can produce more serotonin if we follow a healthy lifestyle, a balanced diet, and plenty of sunlight.
Oxytocin
This substance, also known as the "love hormone," is a neurotransmitter. The hypothalamus produces it, while the pituitary gland releases it. In terms of oxytocin production, females outpace males.
Oxytocin Uses
It develops recognition capacities.
Strengthens the relationships.
Builds trust.
This hormone is released when a person is around someone they love. It has a direct connection to boosting mood and preventing mood disorders.
Endorphins
These hormones are referred to as happy hormones since they are associated with improved mood. This group of hormones has a direct connection to physical activity. They function as organic painkillers. It can increase pleasure while reducing discomfort.
How Can We Increase Our Happy Hormones?
It goes without saying that there needs to be a healthy balance between joy and sorrow. This equilibrium demonstrates that human beings have hormones that cause sadness.
Our mood can be impacted by stress hormones like cortisol. The absence of happy hormones typically results in unhappiness. Melatonin, a hormone that is only loosely associated with happiness, is produced less frequently when there is no sunlight.
Ways to Increase Our Happy Hormones
Physical activity
Any physical exercise will cause your body to produce more happy hormones. You will notice how your happiness level rises day by day. The level of depressive hormones is also decreased by exercise. Therefore, regular exercise will keep happy and sad hormones perfectly balanced.
Tasty food
The best method to improve your mood is with delicious meals. This explains why unhappy people frequently eat more. Make sure you maintain a healthy diet and eat wholesome foods. You are naturally happier when you are healthy.
Sleep soundly
Ensure that you have restful sleep every night. It is essential for relieving stress and unwinding after a long day. This is the most effective guide you can use to discover how to naturally release happy hormones.
Playing your preferred music
The best mental therapy is music. Find your preferred genre and the top songs. Music can increase the production of happy hormones.
To conclude, Happiness: Meet Your Happy Hormones and Ways to Boost Them
Stay Happy with Happy Hormones and discover how achieving the perfect balance in your life can help you raise your levels of the hormones that make you happy. By increasing mental health awareness, we can all work to improve society.
Read more relevant articles.
Hiccups: Why you get Hiccups and How to make them Stop
Relaxation: Meaning and Benefits for Students
Follow us on
Instagram
Facebook
Twitter
Telegram
Feel free to reach out in case of any feedback or queries.
Happy to help!