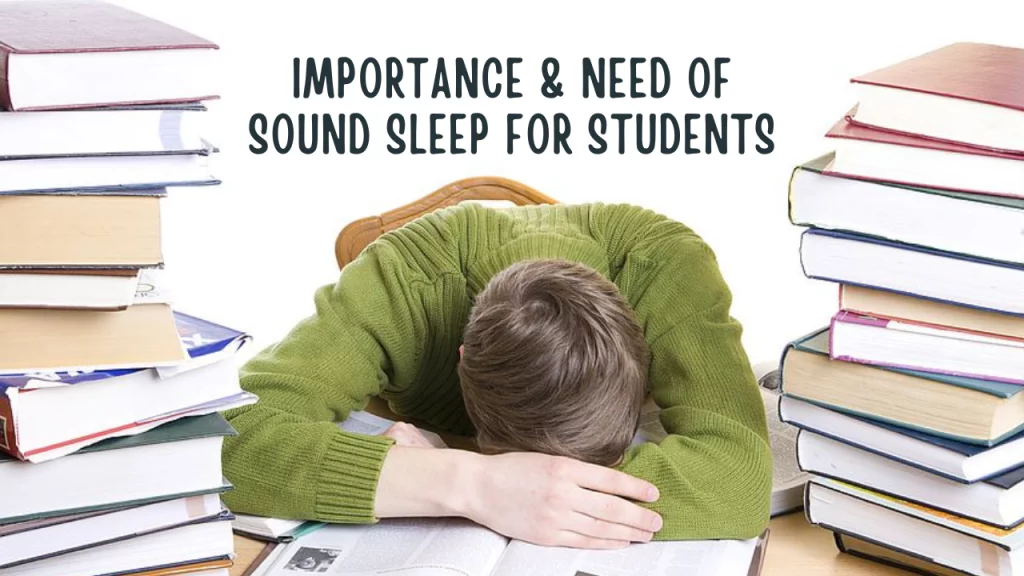 Sleeping is a physiological occurrence that happens every day as your brain shuts down to rest for a few hours.
Sleep science is quite fascinating. Students feel exhausted after a long day of school and studying and fall asleep quickly. Let's explore what sleep is and its significance to your general well-being.
Tips for Sound Sleep
Keep to a regular schedule.
Always stick to a schedule to go to bed at the same hour.
The most effective method of promoting sleep is physical activity. You'll power down more quickly because of your fatigue.
Only take a nap throughout the day if you are extremely exhausted.
Limit your intake of caffeinated beverages.
Sleep: Importance and Need of Sound Sleep for Students
Meaning of Sleep
The nerve cells in your brain induce your voluntary actions to enter a phase where they start to slow down and eventually halt. In some circumstances, your brain continues to be active to regulate breathing and maintain your heartbeat. While you close your eyes and begin your trip to dreamland, several of your physiological processes continue.
Serotonin, a hormone, regulates the entire physiological phenomenon. It is released in the brainstem, where the brain and spinal cord are connected. The hormone is released, and this signals neurons to stop signalling. We start yawning and feel sleepy. At some point, we close our eyes and go to sleep.
Why Is Sleep Important?
Researchers have uncovered novel characteristics of napping that help us comprehend the significance of this activity.
One of the essential physiological functions that everyone requires is sleep. The biological clock that governs our body is revealed through neuroscientific research. This clock controls our 24-hour cycle of sleep and wakefulness. Your biological clock will be similarly established if you wake up at the same time every day.
The main aspect influencing this cycle is daylight. Our brain releases cortisol during the day, a hormone that helps us stay awake and carry out our duties. This cortisol level falls as the sun sets, but the melatonin level rises. Additionally, this hormone is in charge of putting us to sleep.
Why Do We Sleep?
We must have developed and evolved this function for a reason. There are various theories revolving around this.
According to one idea, sleep preserves our energy. Actually, while sleeping and while awake, we approximately equally burn calories. Even when all of your voluntary muscles stop moving, you continue to expend a lot of energy.
Another hypothesis contends that sleeping can cleanse the brain, regenerate neural connections, rest this vital organ, and leave us feeling revived the following day. This is largely accurate. When you are awake, the prefrontal cortex is constantly active. It can power and unwind for a few hours by sleeping.
What Happens When We Sleep?
According to neuroscientists, our brain is constantly at work. Sleeping enables our brain to cleanse, purge unnecessary information, repair neural connections, renew neurons, and reorganise. It will surprise you to learn that neurons exchange messages and organise themselves.
Our tissues and organs all shut down and unwind. When we sleep, every cell continues to perform its basic biological activities and detoxifies. Hormonal levels have undergone several alterations that scientists have observed. Vital organ tissues also regenerate and mend themselves.
What Makes Us Sleep More?
We tend to sleep more when we are exhausted and our brain is overworked as a result of poor sleep or continuous effort. Additionally, contemporary problems like stress and tension can cause it.
To conclude, the only way to ensure that your brain is ready for work the following day is to get enough sleep. It is clearly evident how vital it is to have a sound sleep to keep oneself invigorated and balanced.
Read more relevant articles.
Hiccups: Why you get Hiccups and How to make them Stop
Relaxation: Meaning and Benefits for Students
Follow us on
Instagram
Facebook
Twitter
Telegram
Feel free to reach out in case of any feedback or queries.
Happy to help!